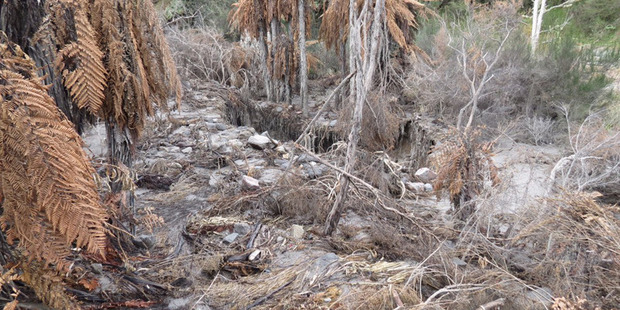 A deep geothermal vent has sprung into life near Rotorua after laying dormant for over 30 years.
The Mud Rift feature in the Waimangu Volcanic Valley, about 25km south of Rotorua, erupted last month releasing steam and water into the surrounding area.
GNS Science Volcanologist Brad Scott said it had appeared to be mainly steam and fine sands-muds involved.
"There is lots of evidence of fluids flooding in to the rift, especially at the west end. Vegetation nearby is stressed and browning off, but is not damaged by the eruption. There is also some evidence of collapse around the edges of the two smaller vents."
Mr Scott said it had appeared to be a short-lived event.
The Mud Rift is a 36 m long, 5-6 m wide, and 15 m deep geothermal vent in Raupo Pond Crater, one of the craters formed in the June 1886 eruption.
The Mud Rift formed in 1906 and this is the first known eruption since 1981.
GNS have recorded 47 earthquakes within 10 km of Waimangu in the last year. In the last 6 years 388 quakes have been recorded which is typically 64 per year.
http://www.nzherald.co.nz/science/news/article.cfm?c_id=82&objectid=11658272