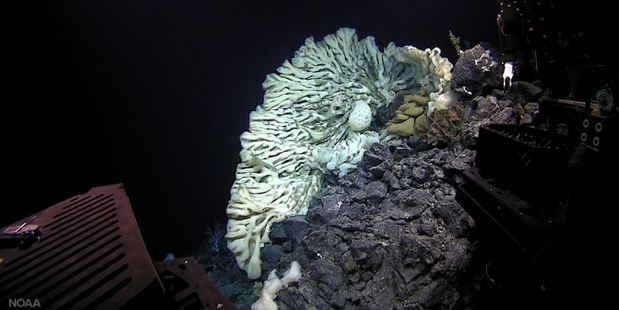 The deep sea is dark and full of mysteries.
Way below the water's surface north of the Hawaiian islands, a remotely operated vehicle (ROV) has spotted a massive creature hitherto unknown to science.
The ROV captured footage of the spectacularly large sponge during a National Oceanic and Atmospheric Administration (NOAA) deep-sea expedition, and the species was identified for the first time in a study published yesterday in the journal Marine Biodiversity.
According to NOAA, the "sponge the size of a minivan, the largest on record", measured 3.6m by 2.1m.
Prior to this discovery, the largest recorded sponge was one discovered in shallow waters off western Canada in the late 1800s. It measured about 3.3m long and 1m wide.
And there's more to this sponge than its girth: It could also be among the oldest living animals on earth. (Yes, here is your obligatory reminder that, while sponges may look like weird underwater plants, they belong to the animal kingdom.)
Sponges can live for hundreds or even thousands of years.
http://www.nzherald.co.nz/world/news/article.cfm?c_id=2&objectid=11646389