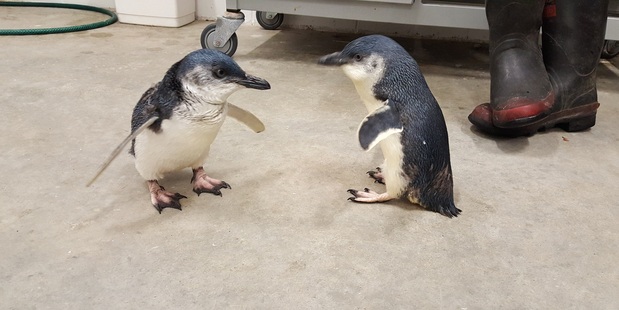 Timmy and Tux formed a special bond while in rehab.
They met at the National Aquarium of New Zealand when their chances of survival in the wild were slim to none.
Timmy has spinal injuries and Tux was abandoned as a baby.
Now they're looking at a fulfilling life with 15 other penguins at the Aquarium's Penguin Cove.
It is not uncommon for the Aquarium to take animals in for rehabilitation but Timmy and Tux's stories are quite unique.
Penguin Keepers Sonja Murray, Steven McQuire and fellow keepers have fed and nurtured the chicks since their arrival and have noticed great improvements in their health and mobility already.
"We've pretty much taken on the role of mum and dad to the chicks," Sonja said.
"They follow us everywhere, just like kids do! It's been quite an experience raising them from such a young age.
"We suspect Timmy's spinal injuries happened when he was very young when his bones were still soft, although we can only guess.
"Tux, on the other hand, seems to have been a 'runt' - he was born late in the penguin breeding season and was under-weight when he came to us - he even still had his baby down."
http://www.nzherald.co.nz/nz/news/article.cfm?c_id=1&objectid=11632288